Tapawingo Daily Schedule
Tap girls have fun participating in all of our activities. From the bugle's first notes and throughout the day there are lively, joy-filled ways to learn new things and enjoy your new friends. See below for a sample of a Day at Tap!
Time
Activity
7:30
Reveille – The trusty bugle has been the wake-up call for Tap girls like you since 1919
7:55
Flag Raising – A quick gathering to salute the flag and meet the day
8:00
Breakfast – Songs and yummy food followed by bunk cleanup with your mates
9:30
First activity period – You might start at the waterfront, paddling a canoe, kayak or even swimming.
10:30
Second activity period – Make a beeline for Arts & Crafts and make a clay pot

or sew a scrunchie

.
11:30
Third activity period – Tennis time! Practice your serve with our friendly coaches.
12:45
Lunch – More songs and munchables. Afterwards, you'll enjoy a rest hour after a busy morning.
3:00
Fourth activity period – All rested up? Time to team up with your friends for some soccer or basketball.
4:00
Fifth activity period – Rehearse for a theater production with your friends! You might act, dance, sing, or create costumes and stage sets.
5:00
Recreational activity – Time in the Gaga pit or building your skills on the ropes course—a Tap girl favorite.
5:55
Flag lowering ­– We circle back to take down the flag and tuck it away for the night.
6:00
Dinner – Giggles over supper…and yes, there could be more songs.
7:15
Evening activity – Campfire, Tap girl-produced entertainment and occasional silliness may occur.
9:00
Taps and bed for Juniors and Middlers - Older Campers go to bed later.
"There was some kind of a connection and camaraderie that got created from spending day after day, and then week after week, and then year after year together. "
Camper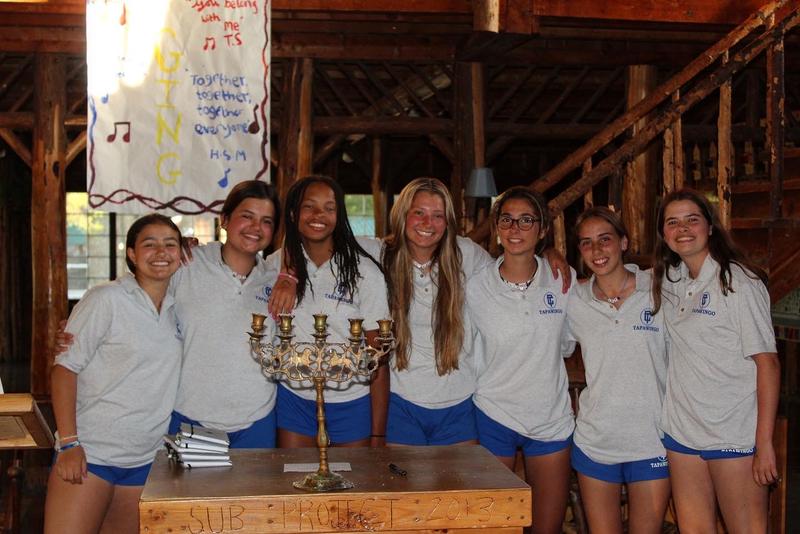 Friday Night Services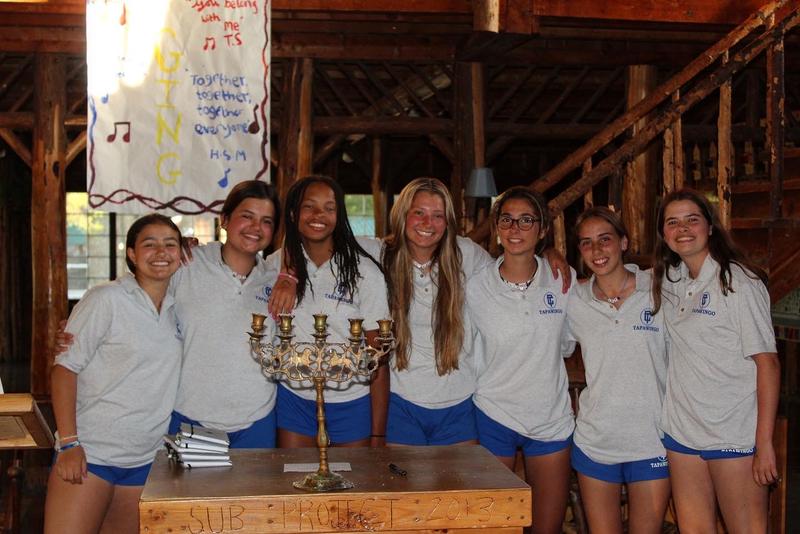 Older Tap girls work with their bunk counselors to prepare speeches related to a subject they choose. Some themes have included friendship, respect, silver linings or community.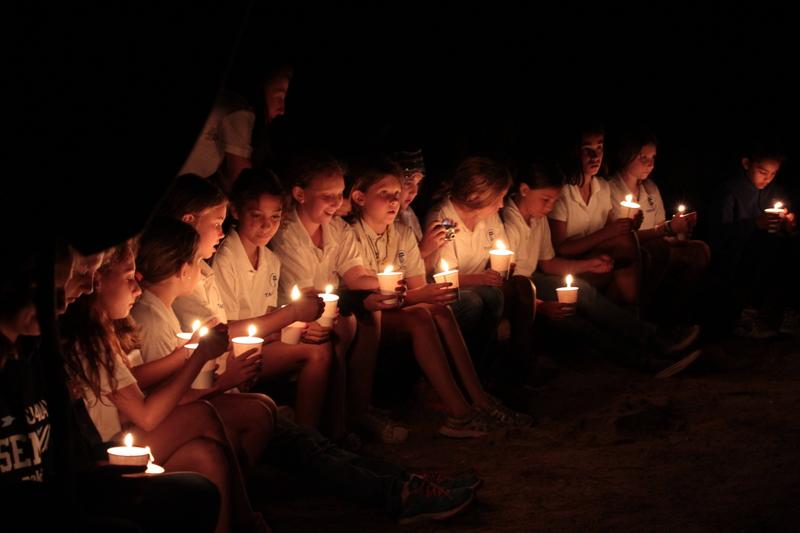 Sunday Night Campfire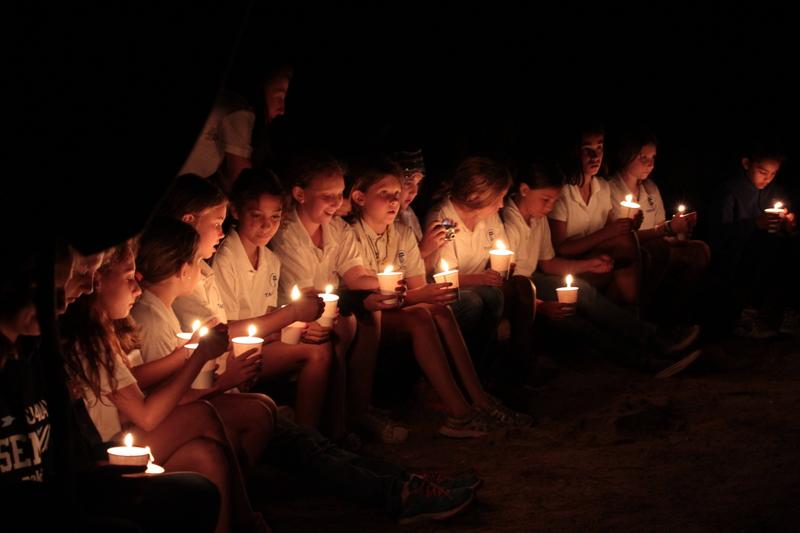 Team captains lead Tap girls to our campfire circle. The flicker of the campfire warms all while the stars begin to brighten the sky. As a family we review the week—events and funny stories are shared. Older campers prepare a program with a theme and make speeches. Counselors and staff sing a related song.
Finally, our Director and Team Captains read campfire speeches that have been shared for over 100 years at Tapawingo as we roast marshmallows and make smores.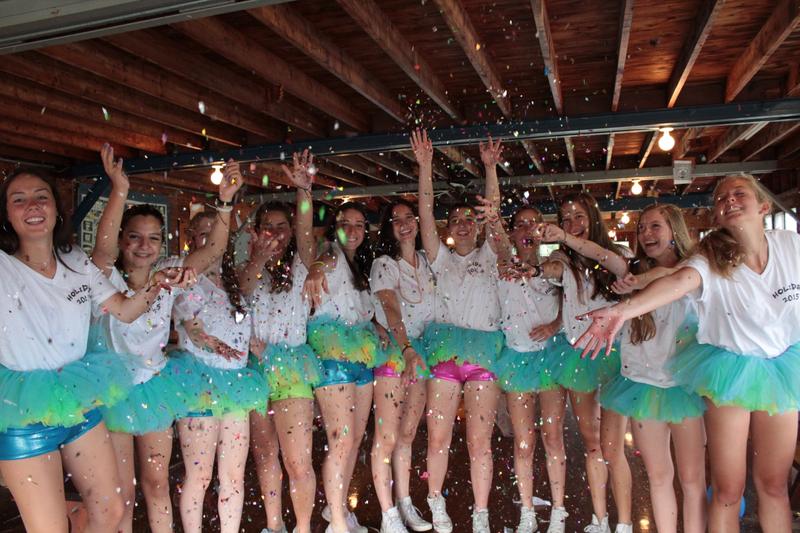 Special Sundays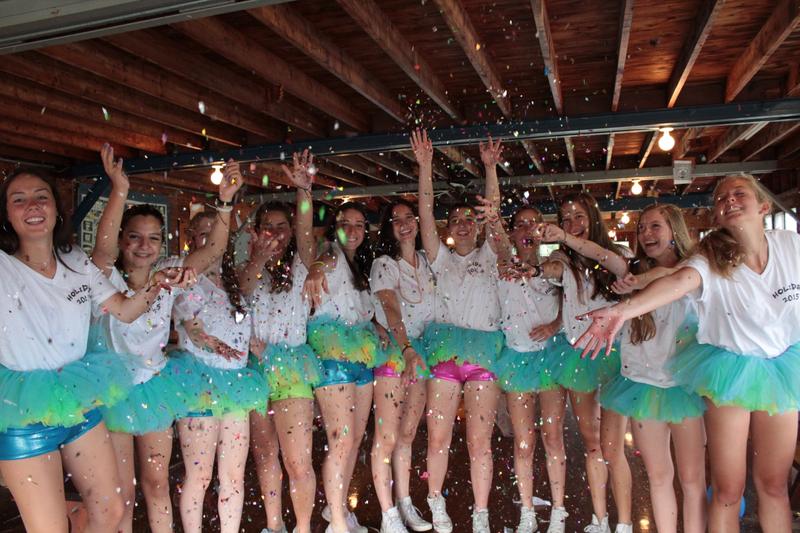 Sleep late and wear your pajamas to breakfast every Sunday! Silliness and singing are encouraged. There are even donuts!
Sunday activities vary each week. Past examples include Gold Rush, Miniversity Casino Day, Visiting Day, a Carnival, Tap Olympics, Tennis Meet, Swim Meet, or Horse Show.
See the gallery below for more fun images of our Special Sundays!